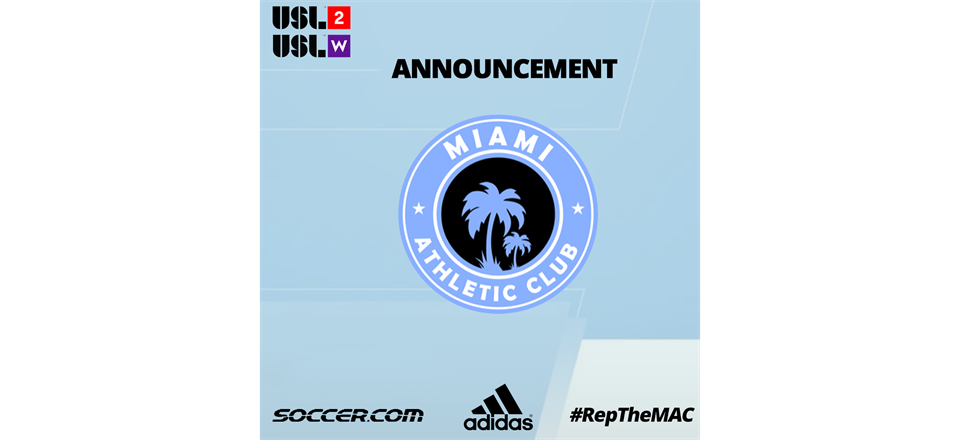 Miami Beach, Florida (March 18, 2022) –
Miami Athletic Club (MAC), an organization dedicated to providing fun, educational, inclusive, competitive sport programs, and Pre-Professional soccer opportunities to the South Florida / Miami community. This announcement is the first of several institutional changes being announced by the club's new leadership, including a new logo, new staff hires and significant programming updates throughout the organization.
"With this branding project, we're putting a stamp on this as a more professional organization with a full-time administrative staff and coaching staff," said Mayowa Owolabi, President, and Executive Director. "We are working around the clock on soccer."
"We are trying to provide the absolute maximum we can from the coaching side in order to increase our player development," Owolabi said.
The club's new logo and name are reflective of an evolving landscape across the pyramid of American soccer, with an approach modeled after European tradition.
"The Miami AC logo reflects a more modernized, but also timeless look and is more representative of a professionally minded club," Gabriel Reis, Director of Operations said. "From youth soccer to MLS, more organizations are becoming more geared to a European-based model."
The organization is also announcing the hiring of the MAC Technical Staff! Marcello Alves will lead the organization as the Sporting Director and USL League Two Head Coach. Wagneau Eloi has been named as the Director of Soccer, Claude Anelka, has been hired as the Associate Director of Soccer, and Gabriel Reis, has been announced as the club's Director of Operations.
Coach Marcello Alves will lead Miami AC following a very successful time here in Miami. Upon arrival in the Fall of 2019 Coach Alves wasted no time making an impact on player development in South Florida. In 2020 Coach Alves assisted in leading Gulliver High School to a Class A State Championship Title! Following that he joined Miami United FC NPSL staff as the Head Coach for the 2021 season and won the regular season NPSL Sunshine Conference Championship, qualified the team for the 2022 Lamar Cup US Open, and was named the Sunshine Conference Coach of the Year!
"After a few years in Miami, I am motivated to continue the good work we have been able to bring to the community for the last three years! There is a lot of talent that needs attention and I am ready to take on the challenge of creating a culture of success. Success will be defined by players and coaches wanting to come back every day because they love working together and they love the club. I can't wait to get started," stated Marcello Alves, Miami Athletic Club Sporting Director.
Coach Wagneau is no stranger to the Miami youth soccer sidelines. Coach Wagneau was the co-founder and Technical Director of PSG Florida when it opened in 2016. Coach Wagneau brings a wealth of knowledge and expertise to Miami Athletic Club following a successful playing career, highlighted by competing at Ligue 1 clubs – RC Lens AS Monaco, Guingamp, and AS Nancy. Coach Eloi also competed and was awarded the Champion of the Military World Cup.
"I am excited to work with Mayowa, Marcello, Claude, Gabriel, and all of the players, families, and coaches in the organization. This is a great opportunity to show our club's focus on creating programs that meet the needs of all players, not just focusing on the top 1%. We will look to develop programs for players aged 3-23+ of all playing abilities as well as offering adult playing opportunities. With this, we will have a laser focus on coaching education and making sure our coaches and educators are always learning and helping all players within the club. We will play in leagues that are meaningful but limit travel and family expenses. We will then make sure to challenge players, coaches, and teams by playing in competitively appropriate top events," said Wagneau Eloi, Director of Soccer.
Gabriel Reis, Director of Operations had this to say, "The hiring of Marcello Alves, Wagneau Eloi, and Claude Anelka sends a strong message to the Miami area that we are extremely focused on fostering an environment where youth athletes can be inspired by coaches who care about development and education while challenging every athlete to be better. We are very excited to have some of the best in the industry at our club to help develop our future. These three hires alone put us on par with some of the top clubs in the country and we are excited to showcase this on a National Level."
The organization's rebrand offers an exciting period of time and growth for the club and it has set new strategic imperatives to bring back the meaning of community soccer and sports to the Miami area with the new hirings.
Mayowa Owolabi, MAC President added, "The rebrand is another pillar in our strategic imperatives and will bring the athletes and community of the Miami area closer together. Soccer has always been the foundation of the organization and will remain so: however, we believe strongly that multi-sport athletes become better athletes overall. Over the next couple of years, we will layer in additional programming that will offer the community and athletes unique opportunities to play the sports that they love. We are excited to connect to the community in more ways than we do now."
Miami Athletic Club has announced its USL League Two and USL W League tryout schedule. Unique to the marketplace, the Miami AC will hold ID Sessions for our USL Academy squad before official Tryouts for our youth competitive program starting the week of May 1st. The ID Sessions will allow players and families the opportunity to get to know the coaches and club before the tryouts.
In the next week, the Miami Athletic Club will be announcing additional programs to help players and coaches through the Spring and Summer.
As the transition to Miami Athletic Club progresses please note that all information will be presented on our new website www.MiamiAC.org
Make sure you keep up with all of our new social media handles:
Instagram: https://www.instagram.com/miamiathleticclub2022/
Facebook: https://www.facebook.com/MiamiAthleticClub2022