Miami Athletic Club hit the road once again on their journey through the USL League Two and USL W League. The men's team led by head coach Marcello Alves went to Orlando and played a very high-level game against the host, Nona FC. After the first half of great pressure from the home team. Regardless great efforts lead by a ball off the post by Nick Itopoulos at the end of the first half showed that there was still a lot to be played for.
The second half was action-packed and both teams were able to create good chances, but neither team could find the back of the net. After battling back and forth for 94+ minutes, the unfortunate happened when Nona found their goal from a fantastic strike outside of the area to find the top corner of our goal by Gabriel Ramos in the 95th minute. We returned home saddened but with an experience that will provide major developing opportunities for our Men. They return to action, tomorrow, June 1st at our first home match of the season vs Florida Elite SC.
Final USL League Two Match Stats:
May 27, 2022
Nona FC – 1
Miami Athletic Club – 0
Austin -Tindall Sports Complex – Stadium
Our Player of the Match | Nick Itopoulos
Check out how our USL League 2 team played here vs Nona FC: https://elevensports.com/view/event/cl2rueui96gdg0jeoy2y8rvsd
On the same evening, May 27th, our USL W League team also traveled away to compete against FC Miami City for the second time in 8 days! Our girls traveled to Central Broward Regional Stadium ready for redemption following the first loss of the season vs FC Miami City just a week before. However, this time the evolution of Miguel Romero's team was evident. With the addition of some key players being cleared and another week of tactical training, the girls came out ready to compete for 90 minutes, and thats just what they did! Even with conceding an early goal due to some unfortunate play inside the box after a corner kick the girls battled and continued to create chances but could not find the back of the net. After, the first match the ladies entered this match much more consistently and showed their ability to compete and play attractive soccer. We are excited how we showed in this match vs a team we know will be competing for a playoff spot. With numerous saves and a spectacular performance of shortstopping and build-up play, we are excited to announce our goalkeeper, Shanay Ricketts, as the Player of the Match! A pity that we could not have a result more consistent with the effort of our warriors, but there is still much to improve on and see from this team. We are excited as they are back on the road again visiting Florida Southern College to compete against another first-year USL member Caledonia SC
Final USL W League Match Stats:
May 27, 2022
FC Miami City – 1
Miami Athletic Club – 0
Central Broward Regional Park
Our Player of the Match | Shanay Ricketts
Check out how our USL W league team played here: https://elevensports.com/view/event/cl31cga9xsr8a0jbfv9atlsoj
Keep Up With Our Teams

See below our complete HOME & AWAY team schedules.

USL League Two Schedule: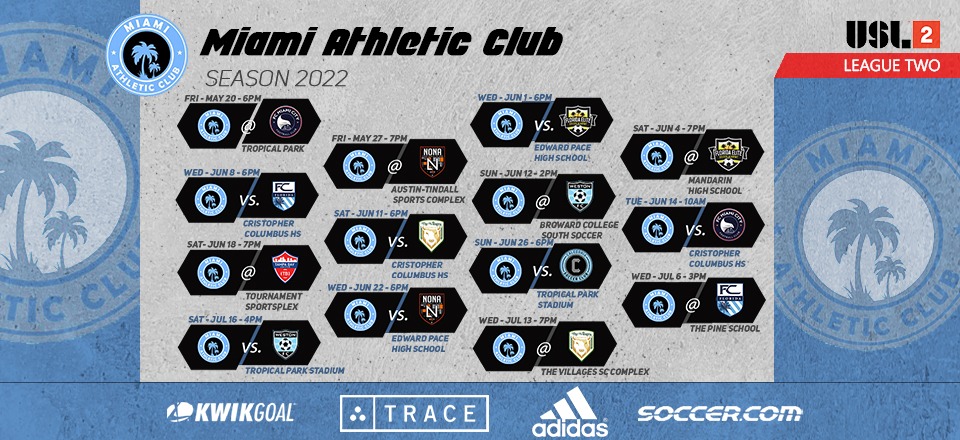 USL W League Schedule: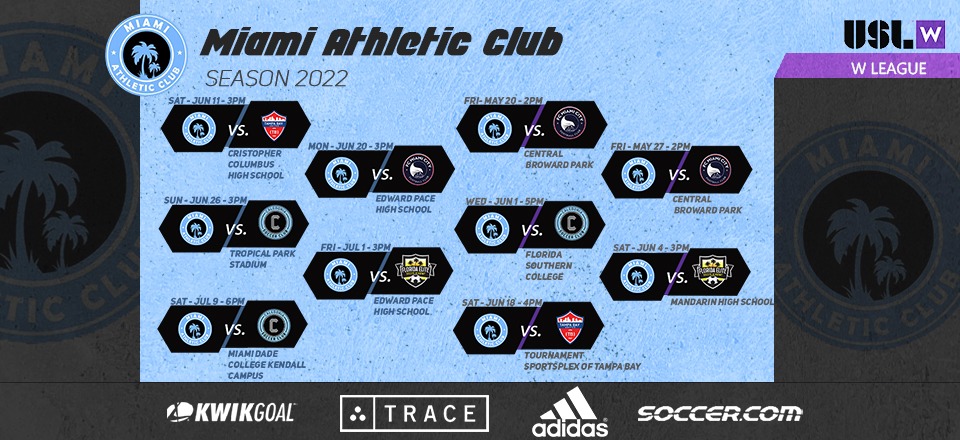 Don't Forget to Purchase Your HOME Game Tickets
All tickets can be pre-purchased or paid for at the gate. For more HOME Game Ticket Sale information visit the link HERE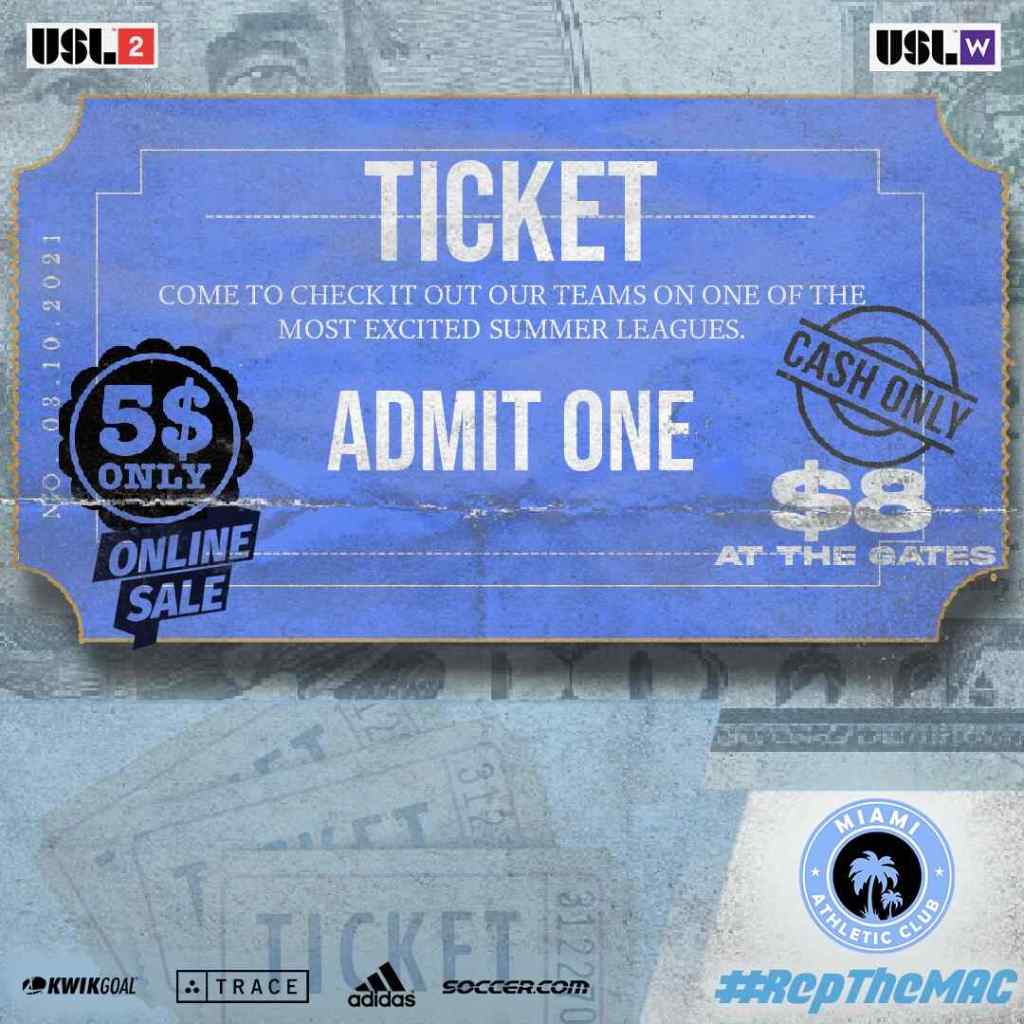 This Wednesday at 6 pm the Miami Athletic Club makes its debut as a home team, at Monsignor Edward Pace Stadium, come! Online tickets for $5. Tickets at the Door $8 Dollars. Buy your ticket here: LINK
Team Swag and Fan Shop
Come to support Miami AC in STYLE!!!