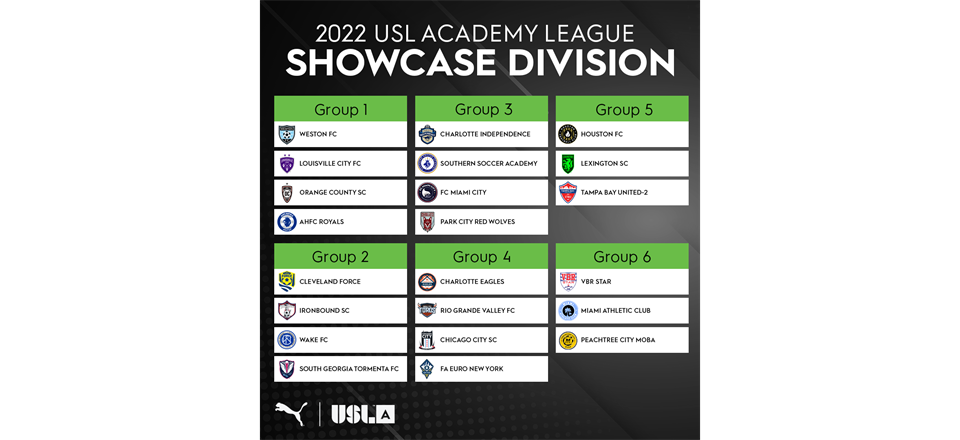 TAMPA, Fla. – The United Soccer League announced today the 30 teams set to compete in the 2022 USL Academy League Finals starting on Thursday, November 17 at the Tournament SportsPlex of Tampa Bay.
"We cannot wait to have all of our USL Academy team and families arrive in Tampa for this event. We had a very challenging first seasonal year of the USL Academy League but we are excited to wrap up the season at this year's Playoff Finals. This will be a great opportunity for our team and players to compete at a very high level in front of tons of coaches that will be in attendance. This will be great for recruitment and exposure for our organization and we look forward to this opportunity to compete! stated Club President, Mayowa Owolabi.
The Finals will be divided into two brackets: the Playoff Bracket and the Showcase Bracket.
The Playoff Bracket consists of eight teams that won their divisions over the course of the Academy League season. These eight teams have been sorted into two groups, where they will play round-robin matches within their groups on each day of the Finals. The top teams in each Playoff Bracket group will then play in the Academy League Championship on Sunday, November 20 at 2 p.m. ET.
Playoff Group A: AC Connecticut, Tampa Bay United, New Mexico United, Indy Eleven
Playoff Group B: Queensboro FC, North Carolina FC, San Antonio FC, Chattanooga Red Wolves SC
The Showcase Bracket will contain 22 other teams set to compete against clubs from across the USL ecosystem, to demonstrate the skills of their prospects on a national stage. The 22 teams have been divided into six groups. Four groups contain four teams, while the remaining two each contain three. The Showcase Brackets will feature group play across all four days, allowing teams to compete against clubs that ranked similarly in the USL Academy League standings and from outside of their respective territories, to encourage quality competition and unique opponents.
Showcase Group 1: Weston FC, Louisville City FC, Orange County SC, AHFC Royals
Showcase Group 2: Cleveland Force SC, Ironbound SC, Wake FC, South Georgia Tormenta FC
Showcase Group 3: Charlotte Independence, Southern Soccer Academy, FC Miami City, Park City Red Wolves SC
Showcase Group 4: Charlotte Eagles, Rio Grande Valley FC, Chicago City SC, FA Euro New York
Showcase Group 5: Houston FC, Lexington SC, Tampa Bay United-2*
Showcase Group 6: VBR Star, Miami Athletic Club, Peachtree City MOBA
*The Miami FC was originally placed in Showcase Group 5 but is unable to attend. Tampa Bay United will field a second team to compete in the Showcase Bracket.
The first session of matches will kick off Thursday, November 17th at 9 a.m. ET.